Infrastructure and Public Works: Systems Integration

Total Systems Integration
We have actively participated in many infrastructure and public works projects in recent years, including transportation projects, metro mass rapid transit projects, and city and county traffic and security monitoring systems. Our services include project design, equipment supply, installation, construction, project management, testing, and maintenance.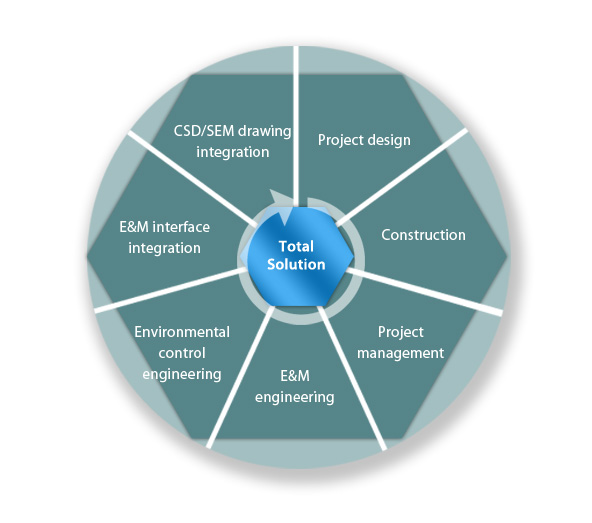 Metro Mass Rapid Transit Projects
In recent years we have successfully implemented many metro mass rapid transit system projects on systems of E&M, environmental control, and common utilities. Our reference projects include Taipei Metro MRT Xinzhuang Line and Sungshan B Line.
E&M System Projects
Low-voltage power distribution panels, safety switches and distribution panels, motor control panels, and low-voltage control panels 
Uninterruptible power systems (UPS)
Lighting systems
Power outlet systems
Grounding systems
Trunk line and shunt systems
Fire alarm systems
Telephone systems
Generator
Fire hydrant systems 
Automatic sprinkler fire extinguishing systems 
Water supply systems 
Sanitary equipment and wastewater systems 
Drainage systems 
Crane equipment 
Tunnel lighting and power outlet systems 
Tunnel dry type fire hydrant systems 
Tunnel drainage systems 
Tunnel ventilation systems
Environmental Control Projects
Mechanical systems: Chiller, cooling towers, chilled water pumps, expansion tanks, chemical treatment systems for water, air conditioners, fan coil, fan
Duct systems: exhaust ducts, smoke exhaust ducts, fire damper, valve and strainer
Water system: chilled water system, cooling water system, utility system
Power systems: Low-voltage power distribution panels, motor control centers, and trunk and branch systems
Control systems: sensors and valves, electrical and pneumatic valves, compressed air systems
Common Utility E&M Projects
Low-voltage power distribution panels, motor control panels, low-voltage control panels 
Emergency generator
Lighting systems 
Power outlets systems 
Low-voltage grounding systems 
Trunk and shunt systems 
Fire alarm systems 
Emergency broadcasting systems 
Fire hydrant systems 
Drainage systems 
Ventilation equipment 
Duct works
CSD/SEM Drawing Integration
CSD(Combined Service Drawing)E&M Integration Interface Drawings
CSD (Combined Service drawings) play an important role in design stage interface integration. In our metro subway projects, we had to carefully lay out and coordinate construction routes and the locations of major E&M equipment, including utilities, HVAC, and fire fighting equipment. CSDs provide a basis for production of SEM drawings during the design stage, and a basis for each subcontractor's construction drawings during the construction stage.
SEM(Structural,  Electrical and Mechanical)Integration Interface Drawings
SEM (Structural, Electrical and Mechanical) drawings are used to support E&M systems installation during project planning and civil construction work, and also used to gather the views and needs of relevant subcontractors in consideration of structural safety. SEM drawings display openings, foundations, casings, pre-buried items, and pipe shafts, integrated into drawings of buildings/structures, and provide detailed construction drawings for subcontractors.
CSD/SEM drawings constitute an interface integration method. Because our engineers possess plentiful experience, the interface problems have been minimal, and we have earned the trust and praise by project owners and civil constractors.
Digital Road Monitoring Systems for City and County Governments
We relied on our superior technical capability and project execution skills to smoothly complete a remote road and traffic monitoring system project for the New Taipei City Police Department. The scope of this project includes all towns and townships in New Taipei City, and is Taiwan's largest digital road and traffic monitoring system project.
Other Public Construction Projects
Civil and steel structure 
Utilities system
HVAC system projects 
Fire safety systems
Low voltage, network, access control system 
Public utilities systems
Grounding systems
Wastewater treatment, air abatement systems 
Exhaust and ventilation systems